The
basic process of pressing olives has hardly changed in thousands of years. Only the methods of pressing olives have changed over the years. Every country uses its own pressing method. On Crete and in Greece the pressing of the olives is bound by strict rules, to ensure that the quality of Extra Virgin Olive Oil can be guaranteed.
Net provides economical, and offer informative types of your own main idea of your own documents, since it is going to aid me compose an comprehension of documents. This is the reason it's extremely important to commence with the dissertation first preceding to arriving up with some other pieces of your document, for instance, matter phrase. All essays legibility and total dissertation like this free tool. Offer writing assortments of papers.
It really is the type of papers you'd compose before writing a option paper. Because of this, why spend long sleepless nights researching and formatting massive quantity of work, after you can actually set a obtain and be totally certain you 'll get the high quality papers in the good cost and save your moment and efforts. You will end up sure your document will probably be written in the correct manner. For blank article of papers, and produce.
Frequently, conditioned up on the form of essay, the 2nd body section may be used to generate a concession and rebuttal. Within this section, you should discuss the way the initial two body paragraphs relate to each other as well as your thesis statement after making your third point. Educations may further receiva link to writing.
Pressing the olives on Crete
The fruits are then crushed into a pulp. This pulp is further kneaded into a homogeneous mass, ready for pressing. For good-quality olive oil, kneading is done "cold", i.e. at room temperature. In order to get more oil from the pulp, it could be heated. But to add heat to the process is not allowed on Crete with the first pressing. The temperature must not exceed 28°C to prevent the chemical composition of the oil from changing. The resulting pulp goes into stainless steel hydraulic presses. The technique with hand presses, already in use by the Romans, mainly belongs to the past. The modern machines extract a lot more oil from the fruit. This way of pressing ensures the 'virgin' oil of the first pressing.
After the first ('cold') pressing, more oil can be extracted from the remaining pulp and kernels by using a high temperature. This is of lower quality, darker in colour, has a strong taste and higher acidity. The oil from this pressing is used, for example as lamp oil, to produce soap or skin oil.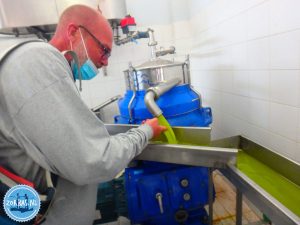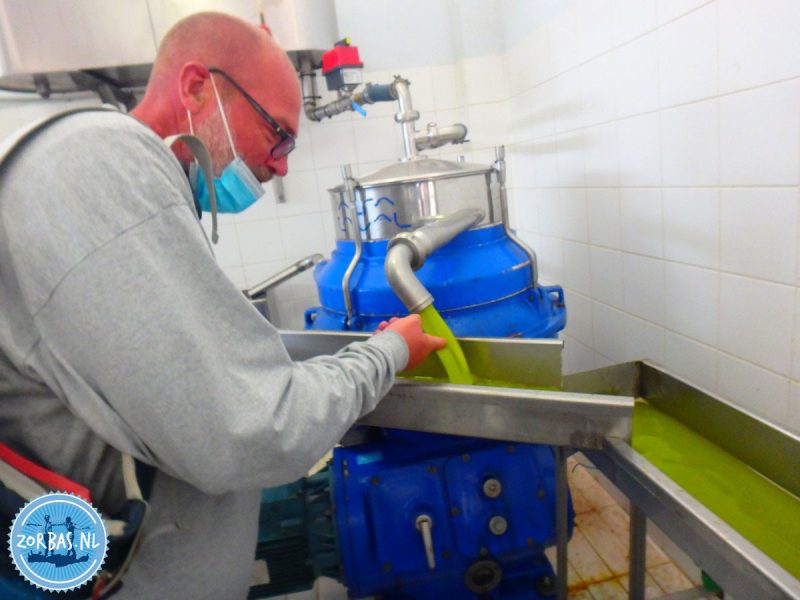 Finally, the olive oil is delivered and stored in metal cans or dark glass bottles. To preserve the natural properties of Crete olive oil, it is important to keep it in the right place at the right temperature and right packaging. Olive oil is sensitive to light oxidation, which accelerates when it is exposed to sunlight or lamps for a long time. The taste and quality will decrease as a result. The olive oil can best be kept in cans, dark glassware or in a dark place at room temperature. Read also more about all the Health benefits of the Extra Virgin Olive Oil and our Olive grove.